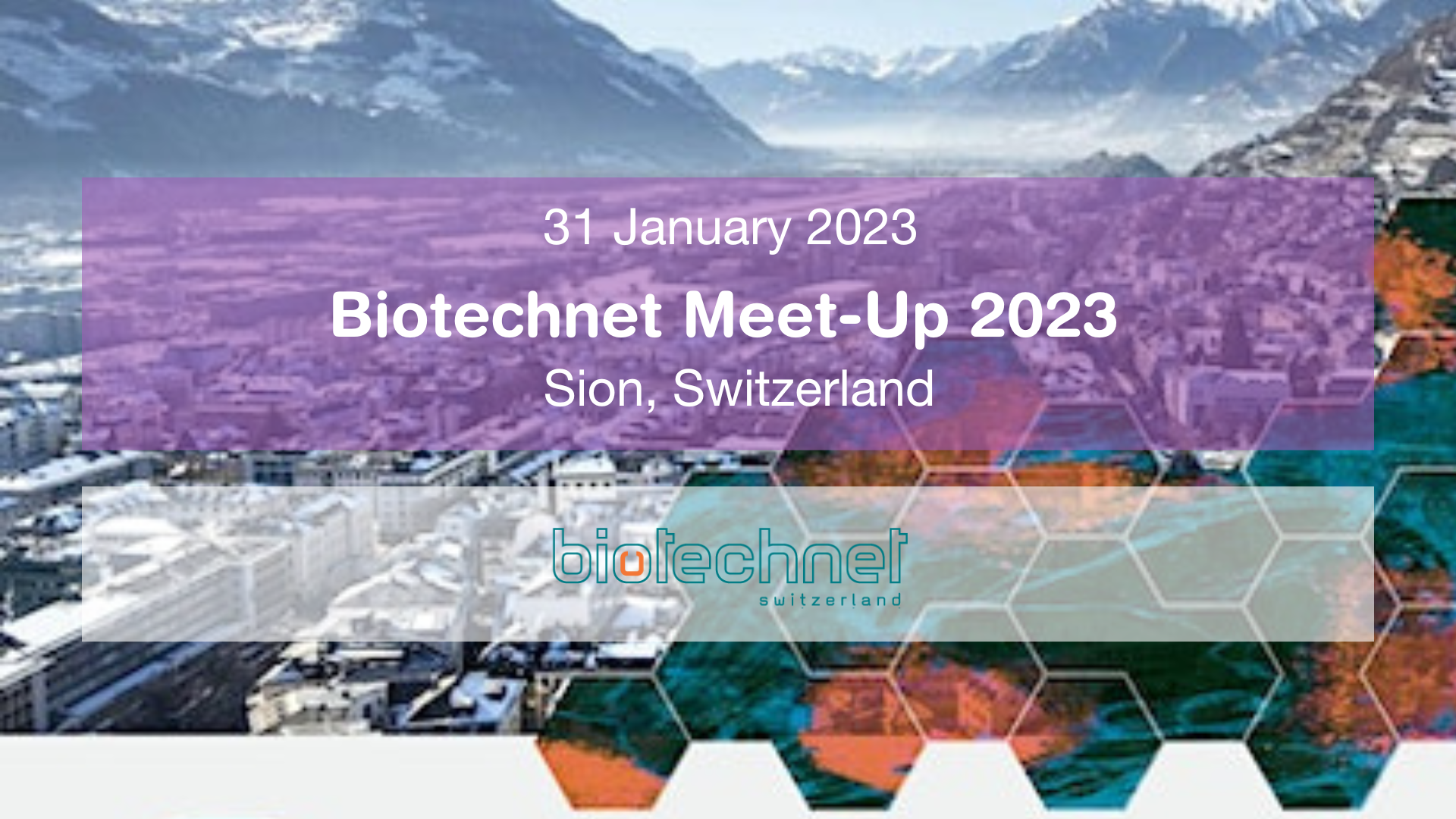 Let's meet @Biotechnet Meet-Up 2023 Sion !
Join us on January 31, 2023  for the Biotech Meet-Up 2023 taking place in Sion (Valais-Switzerland), from 10AM to 5PM. We will be connecting with Swiss universities and research organizations active in biotech! Our CEO, Massimo Nobile will be taking part in the Panel Discussion: Public-private R&D at 2:45 PM.
Keynote speakers focusing on how digital technologies are transforming biotechnology. A panel of SMEs will discuss public-private biotech R&D. Latest research and events will be presented: a great opportunity to discuss new project ideas with key actors at Swiss universities and research organizations.
The event is free but registration is required.
Agenda
23 rue de l'Industrie – Aula (Sion, Energypolis Campus)
10.00-10.15 Welcome from Laura Suter-Dick, FHNW and President, Biotechnet
10.15-11.00 Biotechnet Platform showcase:
Tissue Engineering -Markus Rimann, ZHAW
In Vitro Diagnostics -Samantha Paoletti, CSEM and Marc Pfeifer, HES-SO
New: Biomanufacturing (formerly Single-use technology) -Regine Eibl, ZHAW
11.00-11.15 Coffee and biobreak
11.15 – 12.30 Biotechnet Platform showcase:
New: Data Science – Christian Kronseder and Abdullah Kahraman, FHNW and Moritz Kirschmann, CSEM
Biocatalysis – Katrin Hecht, ZHAW
Bioresource Technologies – Philippe Corvini, FHNW
Stem Cells and Regenerative Medicine – Eliane Muller, University of Bern / Insel Spital
Antibiotics -Markus Seeger, University of Zurich
12.30-13.45 Lunch and networking: 21 rue de l'Industrie – Cafeteria
23 rue de l'Industrie – Aula
13.45-14.15 Keynote talk, sponsored by SATW
Interpretable artificial intelligence for cancer personalized medicine: Aurelien Pelissier, IBM Research Zürich
14.15-14.45 Keynote talk, sponsored by SATW
Accelerating bioprocess development with digital twins and machine-learning: Moritz von Stosch, CIO, DataHow
14.45-15.30 Panel Discussion: Public-private R&D
Massimo Nobile, CEO, Swiss Biotech Center
Claudia Scheckel, CEO, Oncobit AG
Jens Kelm, CEO and Founder, PreComb
15.30-17.00 Tour, break-out discussions, and networking: 21 rue de l'Industrie
Tour of Energypolis HES-SO Valais-Wallis Life Technologies labs
Projects/collaboration ideation between members, researchers, and industry
Project funding Innosuisse, SNSF
Political and government support for biotech innovation
Advisory board discussions
Other topics based on interest
Event partners: SATW, Swiss Biotech Association, BioAlps
Information and registration on : Biotechnet Meet-Up 2023